CINEMA CAMERA MASTER CLASS – PANASONIC VISUAL SYSTEMS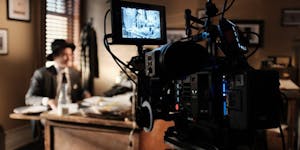 Event Details
Please join us for our first ever Cinema Camera Master Class brought to you by VideoTex Systems, AMP Creative, Dallas Producers Association, Women in Film Dallas and Texas Association of Motion Media Professionals. This quarters Master Class will feature DP Joe Gabriel discussing his use of the VariCam LT and EVA1 cinema camera to create Brainchild, an educational series on Netflix.
The master class will include a full day of presentations from Panasonic ranging from the types of images captured with the cameras to the nuts and bolts of how the camera is built. There are half day options as well as full day options to fit attendees schedules. Schedule and rates below. Please note that we are limiting attendance to 50 people.
Tuesday, February 12, 2019 from 9:00 AM to 4:00 PM (CST)
Dallas, TX
SCHEDULE
Morning Session (Producer's Session)
Introduction to the Panasonic Cinema Lineup
An Overview of the VariCams and EVA1 cameras
Cinematographer Joe Gabriel on Real World experience shooting with Panasonic Cinema cameras.  Joe shot the Netflix series "Braingames" as well as productions for NBC and others using the Panasonic VariCams LT and EVA1.
Hands On time and Q&A
Afternoon Session (Tech Session)
VariCam LT & EVA1 Technical Intensive
Deep dive into the cameras.  Learn the menus, functions, and special features of the cameras.  Hand On time with multiple camera systems.
PRICING
NON – MEMBER RATES
Full day: $150
Half day: $75.00
MEMBER RATES
Full day: $75
Half day: $37.50
Have questions about Cinema Camera Master Class – Panasonic Visual Systems? Contact TAMMP, DPA, AMP Creative, WIFD, VideoTex